De mai putin de o saptamana, yours truly s-a pus pe slabit. Sau, nu chiar slabit, ci mai mult tonifiat. Sunt o persoana sedentara, fac mult prea putina miscare, si asta se vede. Desi am slabit destul de mult intr-o perioada scurta de timp, n-am slabit sanatos. Nu mai am tonus muscular deloc. Si pe cuvant ca intr-o vreme aveam! In liceu, mai exact. Eram foarte mandra de gambele mele si de mini muschiuletii de la brate. Dar de-a lungul anilor m-am tot ingrasat 2-3kg si pe urma slabeam si iar ma ingrasam si iar slabeam.
Nu sunt grasa, dar tot am un mic colacel. Tot am burtica. Tot imi tremura carnita. Me no like. Si m-am hotarat sa ma apuc sa fac miscare, putin cate putin, la mine acasa. Traiasca aplicatiile pe telefon, ca ma ajuta sa urmaresc progresul si sa imi mentin motivatia. Chiar si dupa concediu, trebuie sa-mi impun sa aloc minim 20 de minute pe zi aerobicului. Stiu ca e foarte putin, dar la ce masa musculara am, believe me, e suficient. Si cu cat o sa avansez in my ultimate goal, cu atat o sa fac exercitii mai grele. Who knows, poate o sa rezist la mai mult de 5 minute de cardio, pentru ca deocamdata 5 minute de cardio ma baga intr-o semi-coma, in care eu ma intind pe jos si respir de parca am alergat 10 maratoane deodata. Traiasca lenea, eh?
Cine ma cunoaste stie ca nu sunt si nu am fost niciodata adepta unei diete sanatoase. Far from it, actually. Sunt la polul opus. Sunt o pofticioasa fara pereche. Iubesc dulciurile. Si nu imi refuz niciodata junk food atunci cand se iveste ocazia. Nu mananc mult, thank God, dar mananc numai prostii. Legumele nici nu-mi plac, cu mici exceptii. Ca daca imi placeau, aveam o viata mult mai usoara, as fi fost un iepuras dragalas care manca numai salate. But alas, leguma mea preferata e cartoful prajit, si singura salata pe care o mananc cu drag e aia de ton.
Asa ca incerc si eu, macar putin, sa mai ponderez caloriile ingurgitate. Tin cont de ce si cat mananc, si trec totul prin aplicatie. Problema cea mai mare la mine e ca imi place sa rontai. Continuu. Am cautat pe net o gramada de snacksuri sanatoase si/sau cu putine calorii. Telina. Brocoli. Mmmm, un deliciu. PAS! Pana cand am dat de reteta
ASTA
.
Inca o chestie pe care n-o stiti despre mine. Eu nu gatesc. Nu ca nu m-as descurca in bucatarie, dar pe mine cand ma trazneste foamea, apai trebuie sa MANANC! ACUM! Nu imi rabda stomacul 30 de minute sa imi prepar vreo salata de pui. Sau ce alte chestii imi fac cu ochiul. Si trec la senvisuri. Oricum, ideea e ca gatesc rar, cand am eu chef. Si sunt un mare fan al minuturilor.
Asa ca reteta aia este absolut perfecta pentru mine. Are di tati. Are 3 ingrediente mari si late. Procesul este atat de simplu ca si un copil poate sa execute reteta. Are banane, did I mention that? Iubesc bananele. A, si e dulce. Cu prima ocazie am luat 2 legaturi de banane si m-am pus pe treaba. E foarte foarte,
foarte
simplu, I cannot stress enough cat de simpla e, de nici nu trebuie sa urmariti linkul, ca va pot explica si eu, deci da, e foarte simpla.
Se iau 5 banane. De preferat mai coapte, dar eu m-am descurcat si cu banane mai verzi. Se decojesc. Una din ele o pisati cu furculita, pana se face piure. Se adauga o lingura de unt de arahide. Si 50g de iaurt degresat vanilat. Putina esenta de vanilie, daca vreti. Celelalte 4 banane se decojesc si ele, si se taie rondele, cam de 1cm grosime. Mai departe cred ca va dati si voi seama. Se pune niste umplutura pe o felie de banana, alta felie de banana deasupra. Se pun mini senviciurile la congelator, minim 2 ore. Se scot din congelator. Se mananca.
Eu am modificat putin reteta, pentru ca nu aveam iaurt degresat vanilat si nici nu gaseam la magazinele din zona. Deci l-am taiat de pe lista. Am pus doar esenta de vanilie din belsug (iubesc aroma de vanilie), si o lingurita rasa de zahar, pentru ca bananele mele au fost aromate, dar nu dulci. Dupa ce am facut senviciurile, am presarat deasupra putina scortisoara, pentru ca, ati ghicit, imi place mult scortisoara.
Ieri abia asteptam sa le gust. Am fost sceptica, sincer, pentru ca, serios, nu arata ca cel mai apetisant desert. Also, sunt minuscule. Si chiar daca o portie de 7 bucatele are doar 160 de calorii, ma asteptam sa fie genul ala de desert pe care il mananci tot deodata, deci adio calorii putine.
Am avut un soc. Sunt chiar bune. Chiar delicioase. Si chiar nu sunt o chestie fada cu aroma de banana cum ma asteptam. Alt soc. Chiar sunt satioase. N-am mancat decat 6. Si poate eram eu prea entuziasmata, dar mie mi s-a parut ca seamana la consistenta cu inghetata. Per total, un desert foarte, foarte satisfacator. Si ce-mi place mie cel mai mult e ca se pastreaza foarte usor la congelator. Cand le faci sunt putin incomod de depozitat, ca trebuie sa stea pe o farfurie intinsa, dar dupa ce s-au congelat le-am dezlipit frumos de pe farfurie si le-am pus intr-o casoleta de plastic cu capac.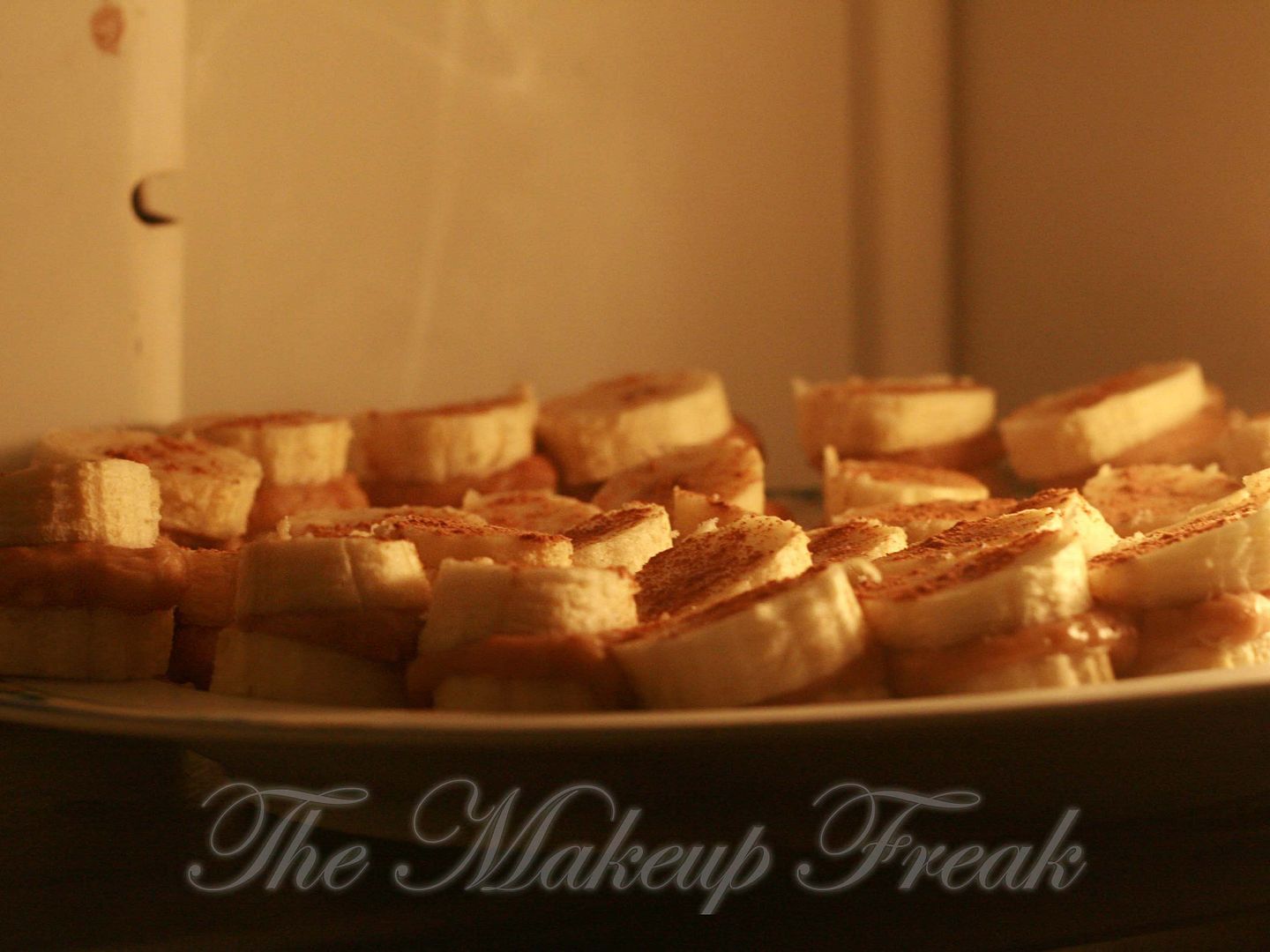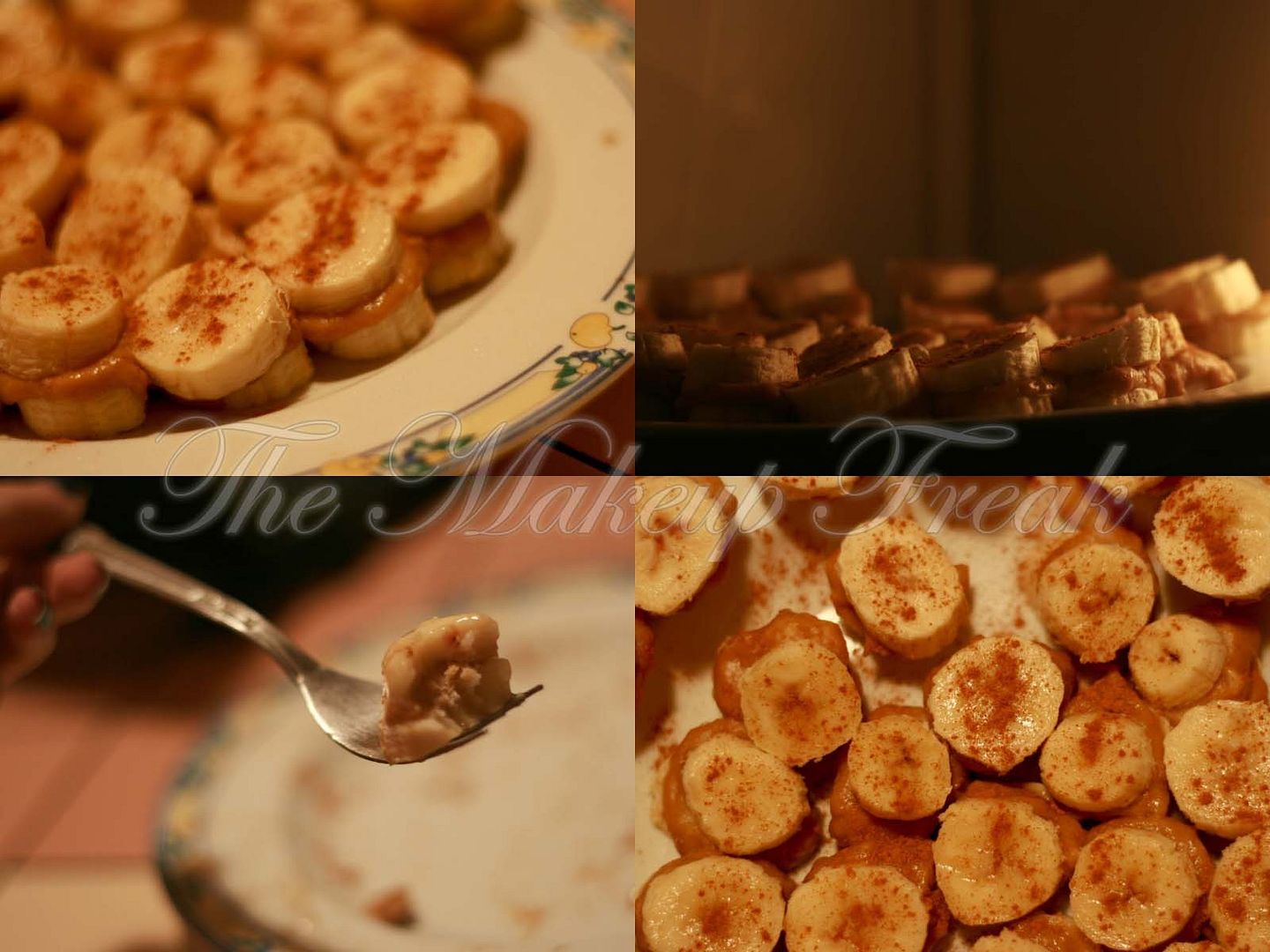 P.S. Daca v-a placut ce ati citit si you want moar! puteti sa va abonati prin Google Friend Connect, care l-am pozitionat strategic sus, ca sa fie vizibil. And if that's not enough for you, don't forget to like me on facebook, pentru random makeup rambles. Si daca nici atunci nu va saturati de Joice, va mai pot stresa si cu Twitter atunci cand sunt on the go.
Also, feel free to contact me for anything la themakeupfreak@yahoo.com
Either way, sper ca v-ati distrat citindu-ma.
For all your Photoshop related questions, please read the disclaimer